UOO is specialized in Neoprene Fabric and various Neoprene Material Products which has been widely used in diving, surfing, heath care, sports, bags, covers, promotion gifts and other various neoprene accessories within over 15 years R&D and OEM experience. Almost all kind of material could be used for, including normal SBR, SCR, high quality CR, Taiwan CR, Korean CR and Japan Yamamoto CR…etc.
For expanding production capacity, we built a new production workshop in Dongguan and Yiwu. Some seasoned technicians from our orginal factory were dispatched. It will not only improve our capacity, but also improve our service and quality and also makes us more directly concentrated on our products and offer a more competitive price.
For responsibility of environment protection, we can offer Eco-friendly material such as RPET Fabric and Eco-friendly glue for selection.
We were mainly focused on domestic markets to trading companies in China before 2015. In recent years, with the development of our Neoprene industry, we are keen to open and expand our own international markets and moved to a new plant in a town Taizhou beside Jiangsu, China. It makes us more directly concentrated on our products and offer a more competitive price.
Welcome to Contact US!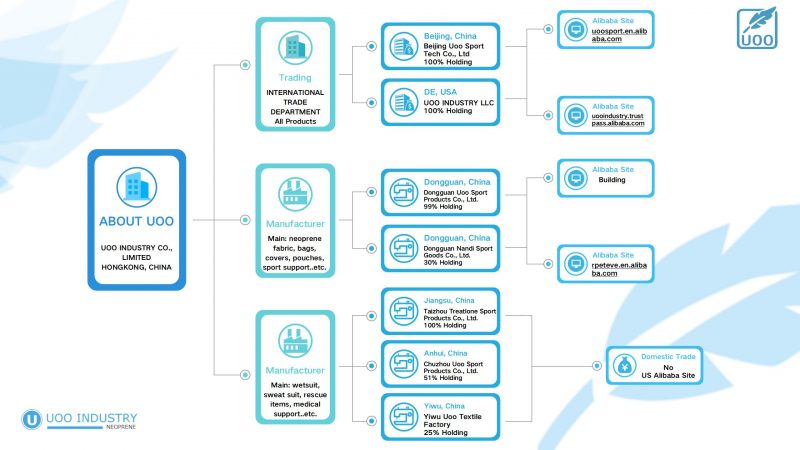 Our Values
We are committed towards what we do. Our activities are managed and undertaken ethically, transparently, and in the interests of all concerned stakeholders.
This shall be undertaken through implementation of the following company values:
We intend to conduct our business ethically and transparently, respecting all applicablelaws.
We intend to be a responsible corporate citizen fulfilling our obligations as an integralmember of society. Hence our business decisions shall give appropriate weight andconsideration to social and environmental impacts.
We intend to provide products of uncompromising quality to meet the needs of our customers.